STEM Education in Virginia
BASIS Independent McLean
Expert Teachers. Endless Potential
BASIS Independent McLean
, a PreK-12 private school in Tysons Corner, inspires students daily to uncover their potential in a program rooted in the liberal arts and sciences.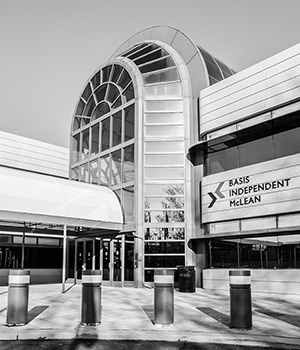 The curriculum is built from the best educational models around the world, with an emphasis on developing the foundational skills and content knowledge students need to succeed inside and outside the classroom. Subjects span the core disciplines, such as Math, Foreign Language, and the three sciences (Biology, Chemistry, Physics), as well as a number of electives like the Performing Arts, Music, and Engineering.
The school also offers a wide array of extracurricular activities during school and after school, including Basketball, Model UN, Speech & Debate, Fencing, and more.
Prospective families can attend a General Information Session to see our facilities, meet school leadership and staff, ask questions, and learn more about our school's program and philosophy.
Call
or
email
today to learn more about BASIS Independent McLean's curriculum.
BASIS Independent McLean
8000 Jones Branch Drive
McLean, VA 22102
Ph: 703-854-1253
Email: mclean-admissions@basisindependent.com
Visit:
http://mclean.basisindependent.com

Advertorial