Virginia Indian Buffets
Buffet - Ideal Option
Whether you're a newbie or a veteran, there's nothing like an all you can eat buffet to gorge on our exotic Indian food.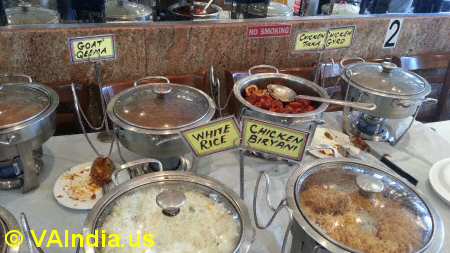 An Indian Buffet Counter
It's rare to find an Indian restaurant in Arlington, Alexandria, Chantilly, Centreville, Falls Church, Fairfax, Herndon, Tysons Corner, Ashburn, Steling, Norfolk, Blacksburg, Roanoke, Charlottesville, Virginia Beach and other towns of Virginia that does not offer at least a lunch buffet.
Indian buffet meals not only provide an opportunity to taste a range of vegetarian, chicken and lamb items but also offer excellent value for money.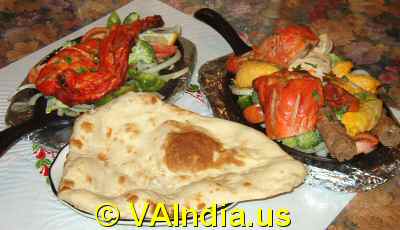 Buffet Appetizers - Tandoori Chicken, Grilled Meat
While most Indian restaurants offer lunch buffet, there are a few that offer dinner buffet and vegetarian only buffet meals as well.
Indian Buffet - Price and Items
Indian lunch buffet price usually varies from $8.99 to $10.99.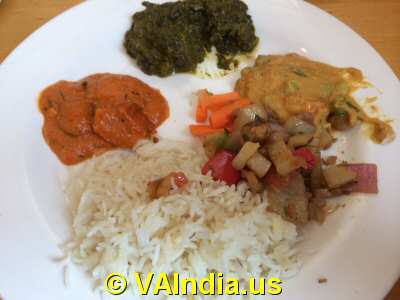 Buffet Entrees - Palak, Butter Chicken
And the buffet lunch price goes upto $14.99 during weekends.
Weekend Indian buffets are also more lavish affairs with over 30-items.
Virginia Indian buffets usually include a range of items from appetizers like Pakora, Samosa, Mirchi Bajji, Uttappam, Medhu Vada, Idly and Tandoori Chicken to entrees like Chettinad Chicken, Chicken Jalfrezi, Chicken Curry, Paneer Butter Masala, Lamb Vindaloo, Dal Makhani, Navratan Korma, Alu Gobi and desserts like Rice Pudding, Gulab Jamun, Gajar Halwa and Rasmalai.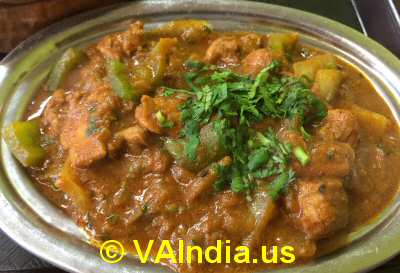 Kadai Chicken
Naan bread is often served hot at the table.
Weekend buffets also include Vegetable Dum Biryani and Chicken/Lamb Dum Biryani.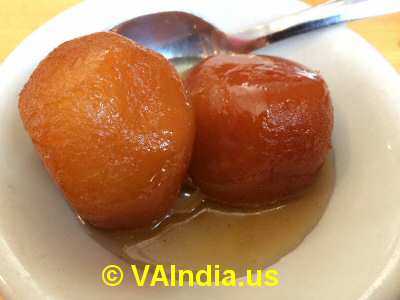 Typical Buffet Desserts - Gulab Jamun
Here are a few Indian restaurants in Virginia serving lunch buffet:
Aditi

5926 Kingstowne Towne Ctr
Alexandria, VA 22315


Ph: 703-922-6111

Lunch Buffet: 11:30AM-2:30PM


Alexandria, VA 22307


Ph: 703-660-6085

Lunch Buffet: 11AM-2:30PM



Delhi Club

1135 N Highland St
Arlington, VA 22201


Ph: 703-527-5666

Lunch Buffet
Mon-Fri: 11:30AM-2:30PM $10.95



Kohinoor Dhaba

2800 S Eads St
Arlington, VA 22202
Lunch Buffet


Ph:703-778-5005




Arlington, VA 22207


Ph: 703-841-9626

Weekend Lunch Buffet



Saffron

43170 Southern Walk Plz
Ashburn, VA 20148


Ph: 703-729-7700

Lunch Buffet
Mon-Fri: 11:30AM-2:30PM
Sat & Sun: 12PM-3:30PM



Delhi 6

43761 Parkhurst Plz, Ste 124
Ashburn, VA 22011


Ph: 703-723-6363

Lunch Buffet: 11:30AM-2:30PM



Preet Palace

14112 Lee Hwy
Centreville, VA 20120


Ph: 703-815-4300

Lunch Buffet


South Riding, VA 20152


Ph: 703-957-4900

Lunch Buffet



Tandoori Village

7607 Centreville Rd
Manassas, VA 20111


Ph: 703-369-6526

Lunch Buffet: 11AM-2:20PM



Maharaja

139 Zan Rd
Charlottesville, VA 22901


Ph: 434-973-0440

Lunch Buffet
Mon-Fri: 11:30AM-2PM
Sat & Sun: 11:45AM-2:45PM



Milan Indian

1817 Emmet St N
Charlottesville, VA 22901


Ph: 434-984-2828

Lunch Buffet
Mon-Fri: 11:30AM-2:30PM
Sat & Sun: 12PM-3PM



Royal Indian

1250 Emmett St N
Charlottesville, VA 22903


Ph: 434-973-2288

Lunch Buffet
Mon-Fri: 11:30AM-2:30PM
Sat & Sun: 12PM-3PM



Taste of India

310 E Main St
Charlottesville, VA 22902


Ph: 434-984-9944

Lunch Buffet: 11AM-2:30PM



Raaga

5872 Leesburg Pike
Falls Church, VA 22041


Ph: 703-998-7000

Lunch Buffet
Mon-Fri: 11:30AM-2:30PM
Sat & Sun: 12PM-3PM



Haandi

1222 W Broad St
Falls Church, VA 22046


Ph: 703-533-3501

Daily Lunch Buffet:11:30AM-2:30PM


Fairfax, VA 22030


Ph: 703-352-8282

Daily Lunch & Dinner Buffet:
11:30AM-9:30PM



Bombay Bistro

3570 Chain Bridge Rd
Fairfax, VA 22030


Ph: 703-359-5810

Lunch Buffet
Mon-Fri: 11:30AM-2:30PM
Sat & Sun: 12PM-3PM



Bollywood Tikka Masala

10364 Fairfax Blvd
Fairfax, VA 22030


Ph: 703-383-9200

Daily Lunch Buffet:11AM-2:30PM



Bollywood Bistro

3955 Chain Bridge Rd
Fairfax, VA 22030


Ph: 703-273-0031

Lunch Buffet
Mon-Fri: 11:30AM-2:30PM
Sat & Sun: 12PM-3PM



Curry Mantra

9984 Main St
Fairfax, VA 22031

Ph: 703-218-8128

Wkend Brunch Buffet:12PM-3PM



Jaipur

9401 Lee Hwy
Fairfax, VA 22031


Ph: 703-766-1111

Daily Lunch Buffet:11:30AM-2:30PM


Fairfax, VA 22030


Ph:703-218-4182

Daily Lunch Buffet:11:30AM-3PM


Herndon, VA 20170


Ph: 703-796-1527

Lunch Buffet
Mon-Fri: 11:30AM-2:30PM
Sat & Sun: 12PM-3PM



Paradise Indian Cuisine

324 Elden St
Herndon, VA 20170


Ph: 703-435-7892

Lunch Buffet
Mon-Fri: 11AM-2:30PM
Sat & Sun: 11:30AM-3PM



Supper Club of India

364 Elden St
Herndon, VA 20170


Ph: 703-736-0466

Lunch Buffet
Mon-Sat: 11:30AM-2:30PM
Sun: 11AM-2:30PM



Punjabi Junction

23520 Overland Dr
Dulles, VA 20166


Ph: 703-996-8810

Lunch Buffet Mon-Fri: 11:30AM-2:30PM



Taaza Indian Cuisine

117 Duke of Gloucester St SW
Roanoke, VA 24014


Ph: 540-342-4773

Lunch Buffet
Mon-Fri: 11:30AM-2PM
Sat & Sun: 12PM-3PM



Nawab

118-A Campbell Ave SE
Roanoke, VA 24011


Ph: 540-345-5150

Lunch Buffet
Mon-Fri: 11:30AM-2:30PM $7:95
Sat & Sun: 11:30AM-3PM $11.95



India Garden

210 Prices Fork Rd
Blacksburg, VA 24060


Ph: 540-951-5100

Daily Lunch Buffet: 11AM-3PM



Saffron

4532 Columbus St
Virginia Beach, VA 23462


Ph: 757-644-6904

Lunch Buffet
Mon-Fri: 11:30AM-2:30PM



Rajput Indian

742 W 21st St
Norfolk, VA 23517


Ph: 757-625-4634

Lunch Buffet
Mon-Fri: 11AM-2:30PM
Sat & Sun:11:45AM-3PM



Nawab

888 N Military Hwy
Norfolk, VA 23502


Ph: 757-455-8080

Lunch Buffet
Mon-Fri: 11AM-2:30PM
Sat & Sun:12PM-3PM



Monsoon Eclectic Modern Indian

2150 Allainby Way
Hampton, VA 23666


Ph: 757-224-1633

Lunch Buffet
Mon-Fri: 11AM-2:30PM



Bombay Tandoor

8603 Westwood Center Dr
Vienna, VA 22182


Ph: 703-734-2202

Lunch Buffet
Mon-Fri: 11:30AM-2:30PM
Sat & Sun: 12PM-3PM



Turmeric Indian

405 Maple Ave E
Vienna, VA 22180


Ph: 703-938-0100

Daily Lunch Buffet:11:30AM-2:30PM