Charminar Ashburn, VA
Address


Charminar

43150 Broadlands Center Plaza
# 166 Broadlands Village Center
Ashburn, VA 20148


Closed





Closed
Charminar Ashburn Review: Big Disappointment
Located in the Broadlands Village Center,
Charminar
is the newest addition to the crowded Indian restaurant scene in Ashburn, VA.
I was looking to redeem my recent bad Chettinad experience at Karaikudi Centerville and jumped when an opportunity came up to dine at Charminar Indian restaurant in Ashburn.
Unless you are completely ignorant about India, you know the restaurant is named after the magnificent Charminar monument in old Hyderabad city in the South Indian state of Andhra Pradesh.
Charminar Lunch Buffet
Like most Indian restaurants in Ashburn, VA, Charminar offers all-you-can-eat buffet ($9.99) for lunch and
a la carte
menu for dinner.
Since I was there during lunch time, I opted for the buffet.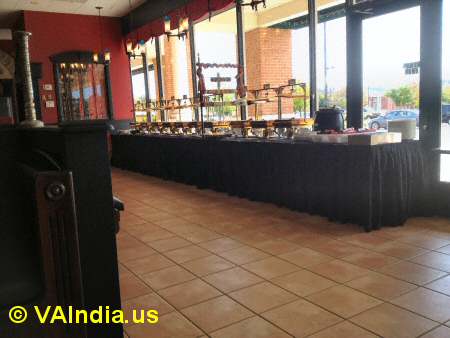 Buffet Counter
Buffet counter was well laid out by the wall and, overall, the restaurant presented a neat appearance.
Charminar lunch buffet included an array of items from vegetable soup, appetizers, vegetarian and chicken entrees to desserts.
Here's my take on Charminar's lunch buffet:
To put it in two words Charminar lunch buffet food was "
cold
(temperature wise) and "
disappointing
" (taste wise)
Soup
What soup?
Veg soup.
No labeling of what vegetable is in it.
Not sure if even the chef knew what vegetables he put in.
While it tasted overwhelmingly tangy it threw me off with its below warm temperature and sweetness.
There was not even a tinge of spice.
Batata Vada
Icy cold Batata Vada: The label read "Batata Vada" but I found a few "Onion Pakoras" in the container as well.
So I thought it was "cool" that they had some extras.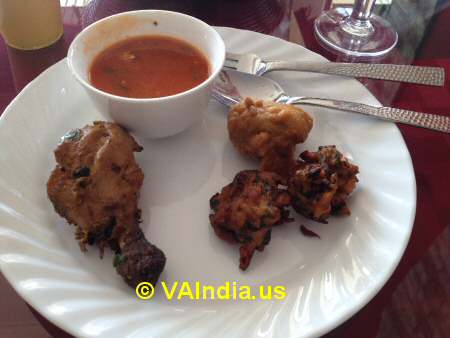 Vegetable Soup (top) Tandoori Chicken (left)
Batata Vada, Onion Pakora (right)
When I took a bite of the Batata Vada, I realized that I was right. This unevenly fluffier potato fritter was literally cold. All I detected was medium spice and the presence of potato.
Onion Pakoras were crispy and less cold and tolerable.
Tandoori Chicken
Tandoori Chicken had a tinge of southern flavor to it unlike North Indian buffets where it looks red.
While the texture and the look of it were appetizing, it was not even close to warm.
Neither was it cooked to perfection.
Uppuma
As I took a bite, it instantly filled my taste buds with the feeling of
Sakarrai Pongal
(as I prefer the latter to be cold) and slowly went down with a spicy aftermath.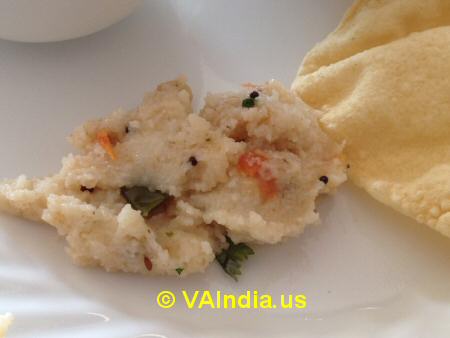 Upma (middle) Pappad (right)
Speak about texture, I had to slam dunk it onto my plate even with the tiny little quantity that I took.
By this time I lost my interest.
However, the presence of Chicken Biryani in the last corner and Gutti Vankaya in the middle held my interest.
Gutti Vankaya
This is my first time with this dish.
While Eggplant is not my absolute favorite, I was looking forward to the gravy.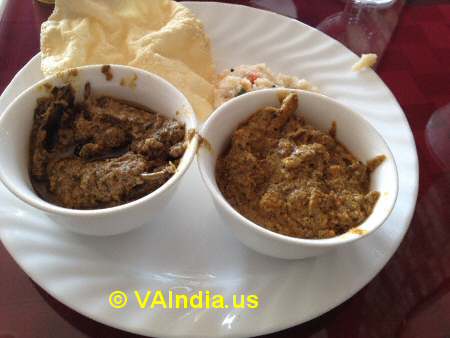 Gutti Vankaya (left) Chicken Kurma (right)
To my agony what was oozing was the oil and not the gravy. So to get to the gravy part, I had to put in some serious effort to get rid of the oil. I guess this is Gutti Vankaya.
Chicken Kurma
While the label said that this is Chicken Kuruma, even a South Indian kindergartener would guess that this isn't Kuruma where the gravy ought to be a little dilute.
This Chicken Masala was overly greasy and artificially spicy.
It carried some bitterness with it as well. Adding to it was its sub par temperature.
I wondered why these important dishes weren't hot. I am not talking about "McDonald's hot coffee" here.
Beendi Pulusu
Beendi Pulusu looked very appetizing due to the presence of Okra (not the Tamil meaning), so I decided to use it with rice.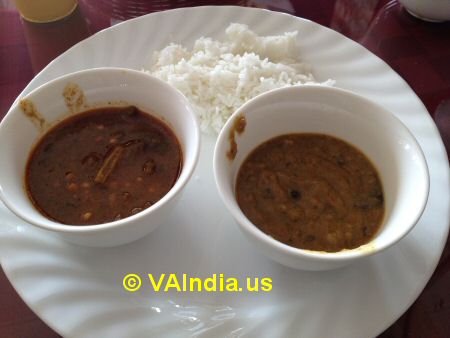 Beendi Pulusi (left) Hyderabadi Veg Dalcha (right)
It was too bitter and I quickly moved on to the Veg Dalcha.
Hyderabadi Veg Dalcha
Hyderabadi Veg Dalcha - "Aiyyo" Yameshwaroopam!
An absolute reincarnation of Lord Yama!
This crud wasn't just bitter and cold but had a foul after taste.
Less said of it the better.
Chicken Biryani
Biryani was the only thing that was warm.
But nowhere close to perfection in terms of temperature.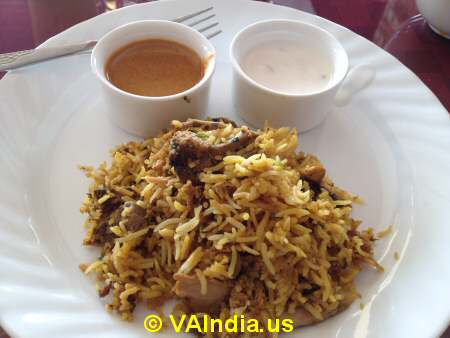 Chicken Biryani with Gravy and Raita
This Biryani slowed down my time drastically due to the over presence of clove and bones.
I hardly found any good soft, tender piece of meat.
Flavoring was also not even.
The gravy was also warm. But too bitter.
Raitha... was just raitha with yoghurt and onions.
Naan Bread
I have to mention that as I sat down, even before starting with the appetizers, I was thrown four mandatory crispy Naan pieces along with mango lassi.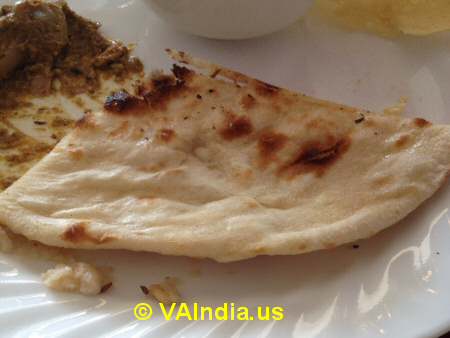 Naan Bread
Rabri & Mango Lassi
Since there was no label either on the top or bottom or on the sides, I spent at least a couple of minutes wondering whether this big bowl of white sticky wall paper paste was actually edible.
I finally figured that it ought to be an eatable since there was a neat array of small show-stealing spoons stacked together in a peculiar design.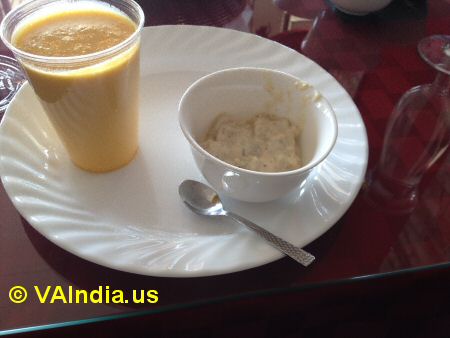 Mango Lassi (left) Rabri (right)
All I my tongue felt were these squishy sugar coated teeny tiny little sago balls.
A tapioca pudding from a grocery store tastes trillion times better.
Since I wanted to know the name of this delicacy I asked one of the staff as to what the name of this dessert was. She asked a guy and that guy asked another guy and finally got the answer that it was Rabdi.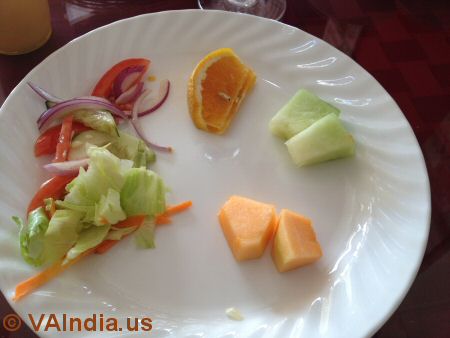 Salad & Cut Fruits
Cantaloupe and honeydew were good.
Mango Lassi was okay. However, it came with an additional charge (I initially thought Lassi was part of the $9.99 buffet).
Charminar Ashburn Rating
Hey y'all folks! Please take a look at this
restaurant's website
.
First point
: (I am raising my middle finger here in "Vatti" Raja style) - They don't say clearly when they are closed. So if you go there on a Monday, it's closed! You're doomed! Nah... you're actually blessed.
Second point
: No lunch menu. (Only timings under lunch menu section)
Third point
: About them -- Too much build up!
This restaurant is all style, no substance.
Much of the food, be it vegetarian or chicken items, I tasted at Charminar in Ashburn are
cold
temperature wise and
disappointing
taste wise.
As I walked away in agony pondering what I was gonna tell when I got back home "Shit yeah! I had an awesome appalam, delicious cantaloupe and honeydew"? :(
To add to my agony I noticed a Thai Cuisine restaurant to the right and Sushi place to the left of Charminar Indian Cuisine.
Now, should I recommend this
Charminar
Indian Cuisine? No Way! - © VAIndia.us