Rasoi of India Centreville, VA
Address


Rasoi of India

14215-S Centreville Square
Centreville, VA 20120


Closed





Closed
Rasoi of India Centreville Buffet: Not Worth It
Tucked away next to a Dollar Plus store in the busy Centrewood Plaza on Rt 29 in Centreville is
Rasoi of India
.
It was around 1:30 PM in the afternoon and we were lazily driving around Centrewood Plaza in Centreville looking to get a quick bite when we spotted Rasoi of India.
On an impulse, we parked our car to explore the food at Rasoi of India.
Rasoi of India offers lunch buffet for $9.95 and takeout for $5.50 a pound.
During our visit, Rasoi of India was empty except for one Caucasian diner digging into Tandoori Chicken and sipping soda.
We briefly explored the food counter and settled down at one of the tables by the wall.
Rasoi of India Buffet
To put it simply, Rasoi of India lunch buffet is a "Triumph of Quantity over Quality"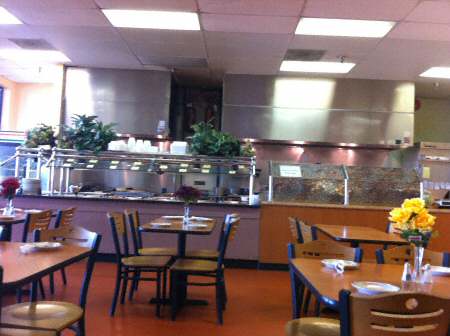 The lunch buffet included six non-vegetarian and six vegetarian entrees, Jeera rice, Naan bread, salad bar, Samosa, Pakora and Pani Puri appetizers and Vermicelli kheer for dessert.
Here is our take on Rasoi of India's lunch buffet starting with appetizers:
Samosa, Pakora
Both Samosa and Pakora were lukewarm.
Samosa was big, well-cooked and the potato filling was not bad.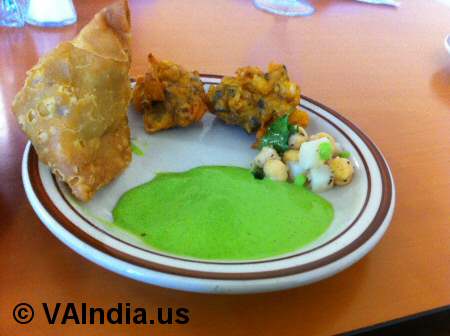 Samosa, Pakora, Green Chutney
Pakoras included onion and potato pieces and were good with or without green chutney side.
No issues with Rasoi of India appetizers except for their lukewarm temperature.
Chicken Items
Pleased with a good start, we moved on to Chicken entrees little realizing the horror awaiting us.
Chicken items during our visit included Tandoori Chicken, Chilli Chicken, Butter Chicken and Chicken Biryani.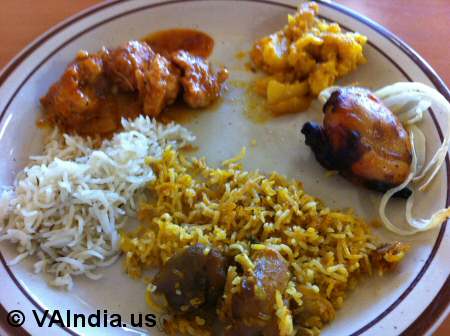 Chilli Chicken (top left) Tandoori Chicken (top right)
Chicken Biryani (bottom)
Tandoori Chicken was burnt on one side and easily one of the worst ones we had in Virginia.
Rasoi of India's Tandoori Chicken also suffered from poor marination and was way too tough.
The texture of the rice in Chicken Biryani was dry. Also, the Chicken Biryani lacked the magical flavor of Biryani spices and Chicken pieces were tough.
Chilli Chicken was so bland making us wonder whether it was wrong labeling or did the kitchen forget to add Chillies.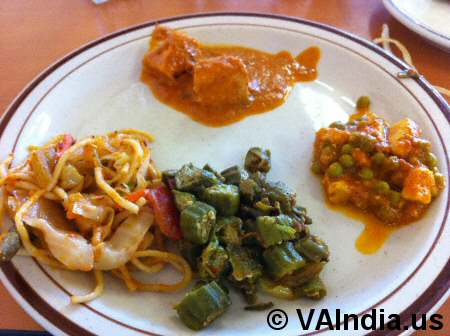 Butter Chicken (top)
The gravy in Butter Chicken was all right but the Chicken pieces were tough ruining the joy of eating this staple North Indian Chicken dish.
Veg Entrees
On the vegetarian side, we found Baingan Bhartha, Spinach Dal, Bhindi Masala, Pindi Channa Masala, Mutter Paneer, Alu Gobi Masala and Vegetable Noodles.
With the exception of Vegetable Noodles, the other vegetarian entrees at Rasoi of India were horrid.
Alu Gobi Masala tasted like boiled potato and cauliflower hastily cobbled together with a wee bit of salt and turmeric powder.
Noodles (bottom), Alu Gobi Masala (top left)
Baingan Bartha (top center), Spinach Dal (top right)
Bhindi Masala was hopelessly bland and it felt like we were eating finely cooked Okra in oil with tomatoes but devoid of any seasoning.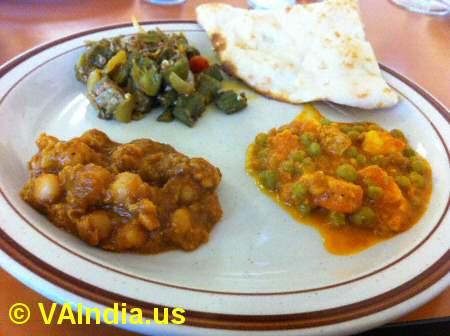 Bhindi Masala (top), Mutter Paneer (right)
Pindi Channa Masala (right)
Pindi Channa Masala was another bland disaster that should not have been placed before a paying customer.
With a surfeit of turmeric powder, Mutter Paneer brought tears to our eyes.
Would there be no end to our misery, we wondered
sotto voce
! Baingan Bartha was low on spices and chillies and clearly evidenced the lack of a competent chef in the kitchen.
Spinach Dal tasted like finely boiled yellow lentils with spinach leaves minus any seasoning.
Although mildly spiced, Vegetable Noodles was was not bad compared to the other vegetarian dishes.
Also, all the buffet items were either cold or lukewarm leading us to suspect that the buffet station burners might not be working properly.
Naan Bread & Jeera Rice
Naan Bread was served at the table hot.
And that is the only good thing about it. It was way too thick for our liking and became hard quickly.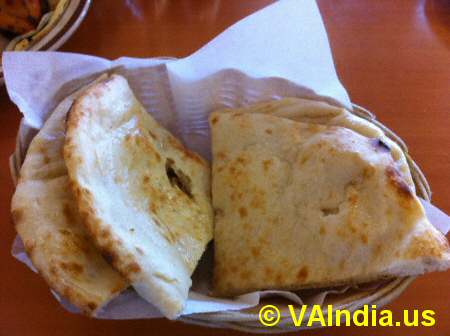 Naan Bread
Basmati Rice with Jeera seasoning suffered from the dry texture and we did not relish it one bit.
Desserts
Vermicelli was the sole dessert during our visit.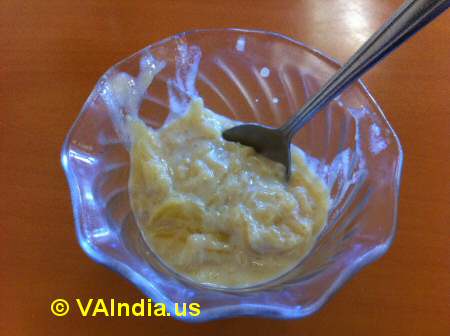 Vermicelli Kheer
In its favor, Vermicelli Kheer was warm but lacked badly on sweetness.
Ambiance & Service
Rasoi of India has no ambiance to speak off and sports the look of a dump.
As you enter the square shaped dining hall, you have the buffet station on the left, tables on the right, soda machine, appetizer counter, kitchen and restrooms at the rear.
The red-colored floor has seen better days with paint/tiles peeling off in some areas.
But tables were clean and, more importantly, silver was wrapped neatly in a napkin and then placed on a plate. A good hygiene practice that not many restaurants practice!
Since it's a buffet, there was really not much service to speak of except that they bring Naan Bread and the check to the table.
Rasoi of India Centreville Rating
Rasoi of India in Centreville serves hopelessly bland Indian curries.
Be it vegetarian or non-vegetarian entrees, it's an equal opportunity offender.
On the plus side, the buffet has a good many items for the price of $9.95.
If you're the kind that loves quantity over quality when it comes to food, then Rasoi of India is right for you.
But if you relish spicy and tasty Indian food like us, then
Rasoi of India
in Centreville will prove to be a terrible disappointment. - © VAIndia.us