Indian Ocean Centreville, VA
Address


Indian Ocean

5639 Stone Rd
Centreville, VA 20120

Closed





Closed
Indian Ocean Centreville: Big Disappointment
Indian Ocean
in Centreville is the latest Virginia Indian restaurant to leave us in a high dudgeon.
Like a lot of Virginia Indian restaurants, Indian Ocean offers
all-you-can-eat
buffet ($9.95) for lunch and
a la carte
menu for dinner.
Indian Ocean Lunch Buffet
Since we happened to be in Centreville around noon, we opted for the lunch buffet.
During our visit, Indian Ocean's buffet counter included the usual array of Appetizers, Chutneys, Chicken and Vegetarian entrees, White Rice and Rice Kheer for dessert.
Here's our take on Indian Ocean's lunch:
Appetizers
Appetizers included the customary Vegetable Pakoras and Tandoori Chicken with sides of Green Chutney, Onion Chutney, Mixed Vegetable Pickle, Tamarind Sauce and Salad.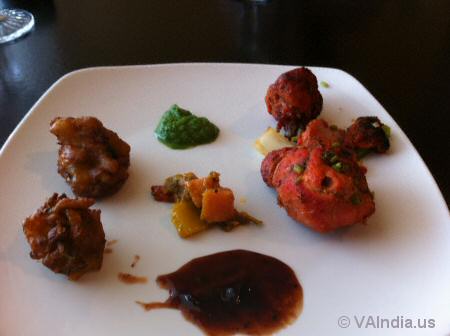 Pakora (left), Tandoori Chicken (right), Chutneys & Sauce
The lukewarm Vegetable Pakoras were well fried and tasted ok when dipped in Green Chutney.
Tandoori Chicken with chopped Cilantro leaves and Onion seasoning looked better than it tasted.
Although Indian Ocean's Tandoori Chicken was not well marinated by our demanding standards, we wouldn't put it in the hopeless category. We've had far worse Tandoori Chicken elsewhere in Centreville.
Chicken Entree
Not too thrilled with the appetizers, we sauntered over to entrees hoping for better luck there.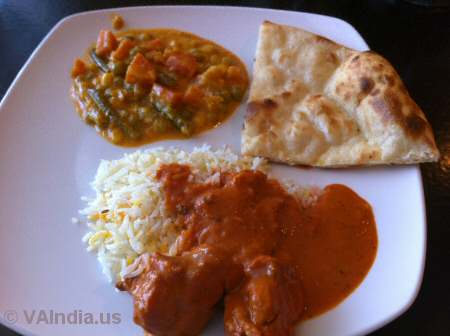 Butter Chicken on Rice (bottom)
Butter Chicken, the sole non-vegetarian entree among the various curries, was our first port of call.
When prepared well, Butter Chicken is a creamy, euphoria inducing delight with tender chicken pieces. Alas, Indian Ocean' Butter Chicken though creamy was far from delicious.
Much to our chagrin, Butter Chicken at Indian Ocean turned out to be a wee bit sweetish.
Vegetarian Entrees
Vegetarian Curries included Alu Baingan Amritsari, Navaratan Korma and Channa Masala.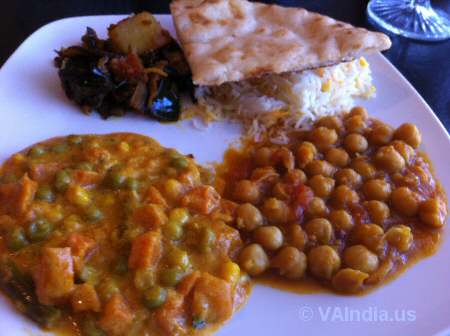 Alu Baingan Amritsari (top) Channa Masala (bottom right)
Navaratan Korma (bottom left)
To put it in one word, all three Vegetarian entrees were "Bland." It felt like eating finely cooked vegetables devoid of any spice or taste.
Alu Baingan Amritsari included eggplant and potato but excluded the divine taste of this popular curry.
Although Amritsari dishes are usually spicy, Indian Ocean's version tasted like Alu Baingan cooked in oil minus spices.
An Indian curry hopelessly low on spices is a travesty that must be summarily rejected.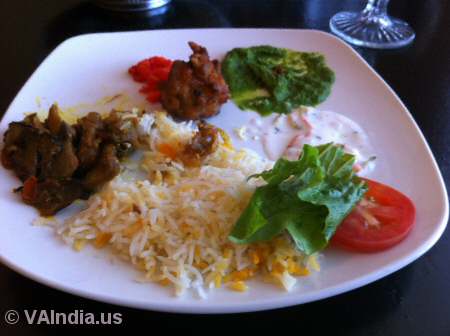 Rice, Alu Baingan, Salad
Navaratan Korma included green peas, diced carrots, beans, corn and other vegetables but lacked any flavor.
Ditto with Channa Masala, which tasted like well soaked and cooked Chickpeas.
To say we were disappointed with the entrees would be a gross understatement.
Hey, we were near tears!
Naan Bread and Rice
Naan Bread was served at the table and one of the few saving graces of our meal.
To our great distress, a lot of VA Indian restaurants dump Naan bread in a heap at the buffet table. We are glad to tell you that Indian Ocean does not belong to that nasty bunch.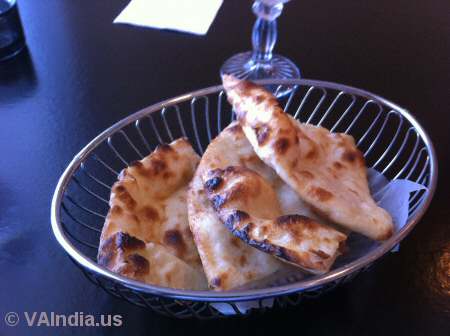 Naan Bread
Naan bread was soft, hot and tasty. The thing is we prefer the bread to arrive after we finish the appetizers.
Basmati Rice was fresh, hot and there were no issues with it.
But in the absence of flavorful entrees, we really could not enjoy the Naan bread or rice at Indian Ocean.
Desserts
Rice Pudding was the sole dessert during our visit.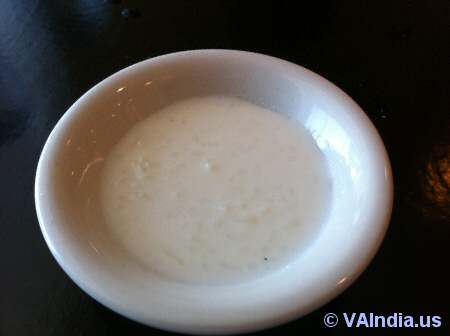 Rice Pudding
Besides a slight off-putting taste, the Rice Kheer was lacking in sugar.
Poor Table Hygiene
Located next to
Hunan Cafe
in a strip mall at the intersection of Stone Rd and Braddock Rd in Centreville, Indian Ocean restaurant has a spacious dining hall with about 14 tables.
Silver on the Table
As you enter the square-shaped dining hall, there are tables upfront while the cash counter, buffet station, kitchen and rest rooms are at the rear.
The dining room and floor were clean and tables arranged neatly.
But what got our goat was the poor table hygiene. The silver was left directly on the table.
Leaving the silver directly on the table is bad hygiene practice as they pick up the fumes and remnants of chemicals used to clean the tables.
When we walked into Indian Ocean, the restaurant was empty except for the wait staff.
We were greeted by a
desi
waiter and shown to a table promptly.
The food at the buffet counter looked untouched leading us to wonder why there were so few takers for Indian Ocean's lunch buffet.
Water glasses were filled without any prompting and used plates removed swiftly after checking with us.
Indian Ocean VA Rating - Disappointing
Indian food derives its fame from its rich array of spices and flavors.
Alas, the curries we tasted at Indian Ocean were grossly underspiced robbing us of the joy of a flavorful Indian meal.
On the plus side, the restaurant is clean, has a nice ambiance and provides decent service.
But a visit to an Indian restaurant is primarily to appease the hunger gods and tastebuds, with nice ambiance and service being just the sides. - © VAIndia.us