Saran Arlington Indian Restaurant
Address


Saran Indian Cuisine

5157 Lee Highway
Arlington, VA 22207


Ph: 703-533-3600






September 30, 2018
Saran Arlington: Not Worth it, Keep Moving
Tucked away in a small strip mall with few parking spots on Lee Hwy in Arlington is
Saran Indian Cuisine
.
We had seen Saran on a few occasions while driving down Lee Hwy but never hit the brake.
Finally, the big day arrived when we stopped and eagerly stepped into Saran to explore its so called "Home Style Indian Food."
In hindsight, it was a horrendous mistake and, instead, we would have been wiser to just drive past Saran without stopping.
Folks, with its bland, tasteless food, Saran is an insult to the fine reputation of our glorious Indian cuisine.
Vegetarian Food
Unlike most Indian restaurants in Virginia, Saran offers only vegetarian fare.
If you're the sort that drools only at meaty Indian entrees like Chicken Tikka Masala, Lamb Vindaloo or Tandoori Chicken, look elsewhere.
Saran lays out an all-you-can-eat lunch buffet from 11AM-3PM and
a-la-carte
menu for dinner.
Since our visit happened during lunch hour, we opted for the $9.99 buffet.
Lunch buffet during our visit to Saran included an appetizer, salad, soup, six vegetarian curries, Sambar and one dessert besides the usual white Rice and Naan bread.
Here's our verdict on the Saran lunch buffet:
Appetizers and Soup
We were disappointed that Samosa was the only appetizer available.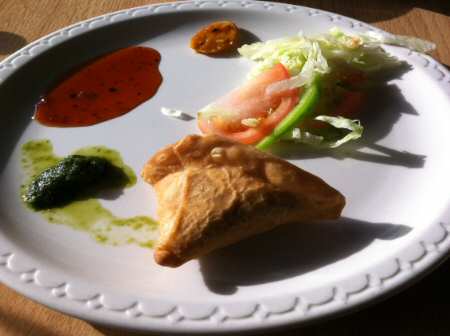 Samosa, Salad, Chutneys
Normally, Indian restaurants offer both Samosas and Pakoras (fritters) in lunch buffets.
The good thing about Saran's Samosa - it was not oily. But the bad things - it was a bit hard and insufficiently cooked inside. Worse, the Potato filling was tasteless.
Even the Green Chutney accompaniment did not compensate for the tasteless Samosa.
Sure, the Green Chutney was at room temperature but it too was bland.
Tomato Soup compounded our misery as it tasted like reheated Campbell with some Tomato pieces flung into it.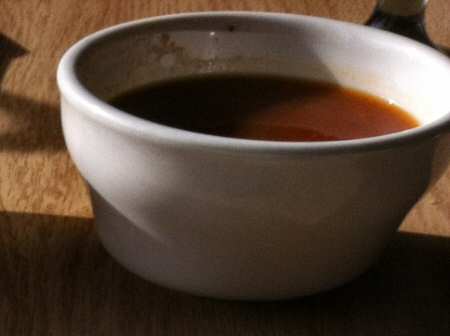 Tomato Soup
Salad was nothing but the customary Lettuce, Bell pepper, Tomato slices minus any dressing, the stuff that you encounter and invariably ignore at a hundred Indian restaurants.
Entrees
Disappointed with our appetizer and soup ventures, we moved on to entrees hoping for some relief to our spice hardened palate.
Capsicum Potato Curry, Rajma, Alu Mutter, Saag, Yellow Zucchini and Cabbage curry were the entrees.
Alas, be it Rajma, Alu Mutter or the other entrees, they had one thing in common.
They were all bland, tasteless and attested to an astonishingly inept kitchen.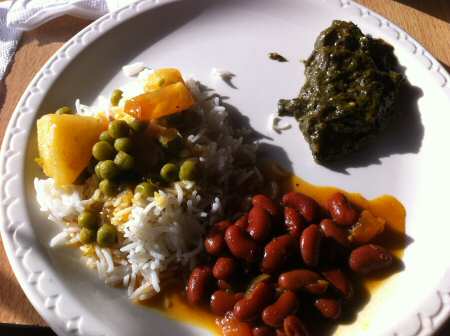 Alu Mutter (left), Saag (top) and Rajma (bottom)
Set in a watery thin gravy, Rajma tasted like finely boiled red beans. If any seasoning or Indian spices were added to it, they were not only not apparent but grossly insufficient.
Ditto with Alu Mutter. With a runny gravy, it tasted like boiled potato cubes and green peas thrown into lukewarm light colored water.
Sambar was a close competitor to Rajma and Alu Mutter in taste.
Saran is not a restaurant that stints on inflicting misery.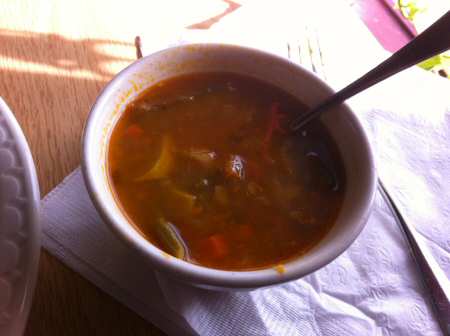 Sambar
Devoid of any Tamarind or Sambar spices like
Dhania
, Saran's Sambar tasted like Dal with a medley of boiled French Beans, Carrot and Squash vegetables added to it.
But our misery was not to end.
Cabbage Curry was another abomination that no self-respecting kitchen would have placed before paying customers.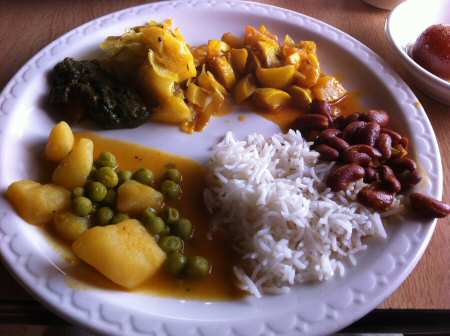 Cabbage Curry (top middle), Rajma (right)
Way too oily and bland, we felt we were eating near-raw chopped Cabbage with some mustard seeds added to it.
Capsicum Potato Curry, Yellow Zucchini and Saag were slightly better compared to other entrees.
Capsicum Potato came with a very mild flavor of green Bell pepper and that's the only good thing we have to say about it.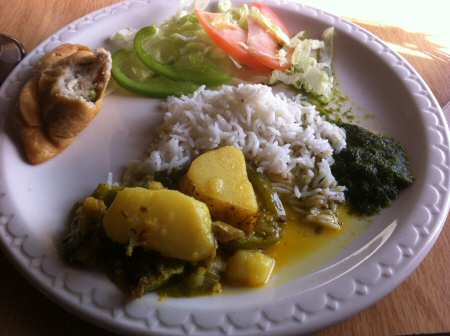 Capsicum Potato Curry (bottom)
Saag curry, mercifully, did not have any raw flavor to its credit.
Saag in most Indian restaurants comes with a very raw taste.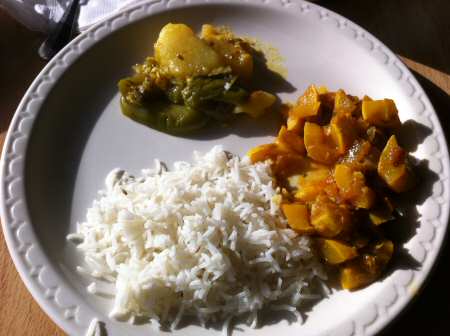 Yellow Zucchini (right)
With a slight sweetish flavor, Yellow Zucchini was again not as bad as Rajma or Sambar.
Plain rice was warm and had a nice freshly cooked texture. Well, it requires talent of a special kind to mess up plain Rice.
Raita mercifully was not sour.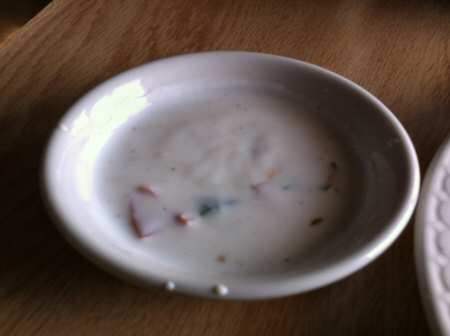 Raita
But it was nothing but plain yogurt with some dry ginger powder dressing and some sliced raw Tomato and Onion pieces thrown into it. I've had better.
Naan Bread
One of the few highlights of our otherwise abominable meal at Saran was Naan bread.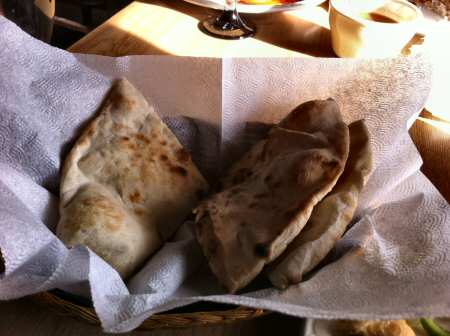 Naan Bread
Naan bread was served hot at the table. It included four nicely cooked, tasty slices.
Desserts
Gulab Jamun was the sole dessert at the buffet station.
When an Indian restaurant charges $9.99 for a buffet, to offer just one dessert is ridiculous.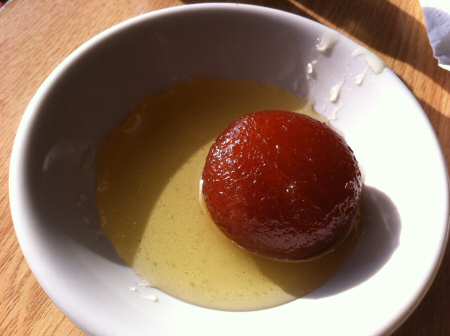 Gulab Jamun
The medium size Gulab Jamun was evenly cooked, warm and the accompanying sugar syrup was thick.
Gulab Jamun syrup could have done with a little less sugar. But we still relished it.
Ambiance and Service
During our 30-minute stay at the restaurant, we found few takers for the Saran buffet.
When we walked into Saran, the dining hall had just three diners.
One more diner came in later.
As you enter the rectangle shaped dining hall, you have tables upfront, buffet station on the right side by the wall at the back and cash counter, restrooms and kitchen at the rear.
Saran, like most Indian restaurants, has no ambiance to speak off.
The dining hall was clean and had a few pictures depicting Indian women on the wall.
We were greeted with a smile by a
desi
waiter and allowed to choose a table of our choice.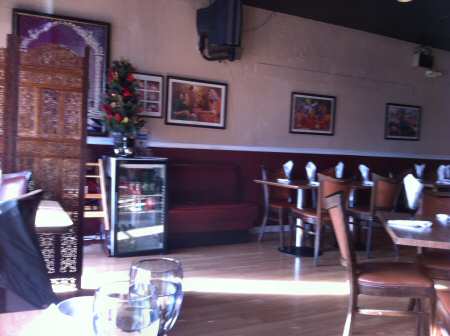 Dining Hall
The same waiter poured water into our glasses and informed us that we could start immediately as buffet was ready. He offered to bring us the Naan bread to the table.
As promised, he brought the Naan bread to the table within five minutes after we started eating.
Used plates were removed promptly and we were also asked whether we needed extra bread.
Our table was clean with the silver neatly wrapped in a paper napkin.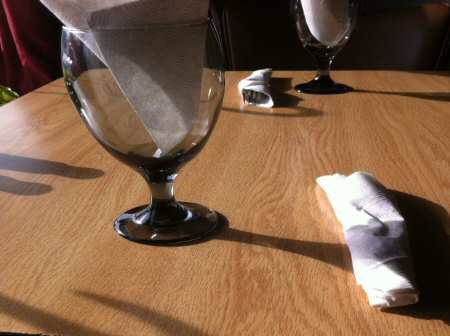 Clean Table
We like the fact that Saran is sensitive about table hygiene and avoids leaving the silver directly on the table.
While we were pleased with table hygiene, we were distressed to see some diners carrying their used plates to the buffet station for second helpings.
The waitstaff made no attempt to stop diners from carrying their used plates to the buffet station, which in our opinion is a big hygiene issue especially for buffet food.
Another irritating thing was that Saran's waitstaff is too lazy to put labels for any of the food items at the buffet station.
Restrooms were clean. In a lot of Indian restaurants, restrooms are dingy, dark dirty holes.
Saran Arlington Rating
All in all, we regretted stopping at Saran Indian restaurant for much of the food we tasted was hopelessly bland and tasteless.
Sure the Naan bread was served at the table, service was polite and restrooms clean.
But a visit to an Indian restaurant is primarily to pamper your tastebuds with the magic of Indian spices.
Food is where Saran fails miserably.
If you love Indian food as much we do, we recommend you ignore Saran and proceed further down Lee Highway into Falls Church or Fairfax to try your luck elsewhere. - © VAIndia.us