Karaikudi Chantilly, VA
Address


Karaikudi

13939 Metrotech Dr
Chantilly, VA 20151


Ph: 703-817-7755

Closed



Closed
Karaikudi Chantilly: Bitter, Burnt Chettinad Curries
Among the cornucopia of Indian food, one of our favorites is Chettinad cuisine.
For it is spicy, tangy and packs a distinctive fiery character.
So the other day when we spotted
Karaikudi
on Metrotech Drive in Chantilly, we walked in nostalgically drooling over fond memories of Chettinad meals enjoyed back home in India.
As we stepped in, we spotted three diners and a group of four paying the bill at the counter.
The Indian waiter never cared to get us the menu or enquire whether we want to order from
a la carte
menu or have the buffet.
After waiting a few minutes in vain, we headed to the buffet counter.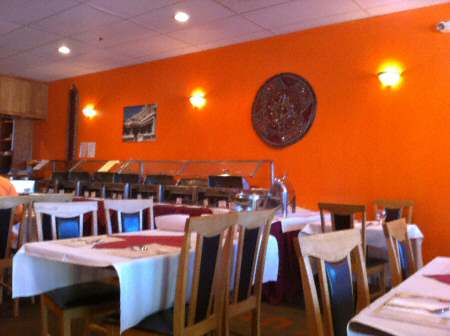 Karaikudi Chantilly Dining Hall
Karaikudi Chantilly Buffet
In retrospect, we shouldn't have bothered with Karaikudi's buffet at all.
Because the three famed Chettinad curries
Ennai Kathrikai, Egg Masala
and
Vegetable Kurma
were mighty big letdowns at
Karaikudi
Chantilly.
Also with the exception of Rasam, the other buffet items were not even lukewarm.
Besides Chettinad Curries, Karaikudi Chantilly's buffet included Idli, Rasam, Sambar, Cabbage Pakora, Chicken 65, Hyderabad Goat Biryani, Lemon Rice, Okra Poriyal, Tomato Dal, Malabar Fish Masala, Chicken Tikka Masala, Curd Rice and Payasam. Here's our take on Karaikudi Chantilly Chettinad buffet starting with appetizers:
Appetizers
Cabbage Pakora was cold, over-crisp and hard like South Indian
Muruku
.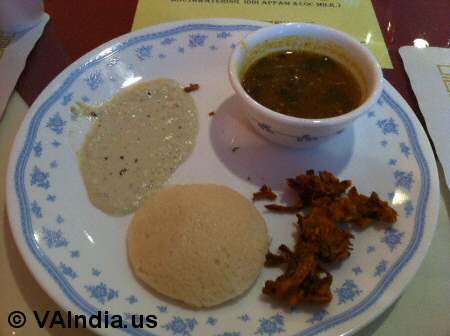 Idly, Cabbage Pakora, Coconut Chutney, Rasam
Idly was cold but not bad texture wise.
Mercifully, the accompanying Coconut Chutney was at room temperature. But it could have done with a few more green chillies.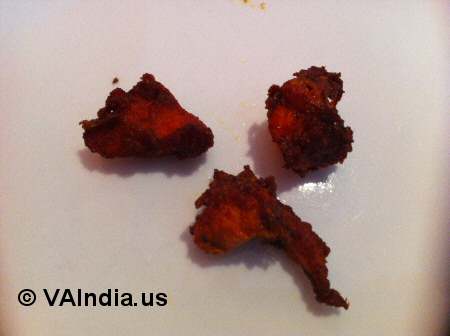 Chicken 65
Chicken 65, a popular South Indian appetizer, was hard, tasted bad and had an ugly red food color.
It's hard to screw up a commonplace dish like Chicken 65 but the Karaikudi bozos managed to do it.
Rasam and Sambar
Rasam was Chettinad hot both in temperature and spice level.
It was tangy with strong flavor of black pepper powder. Needless to say it was much relished.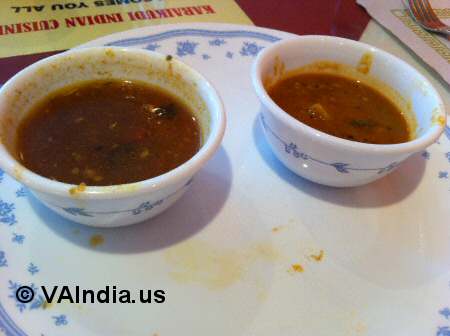 Rasam (left) Sambar (right)
The medium thick Sambar included Italian Green Squash (Sorakaya) with curry leaves seasoning.
But Sambar was obscenely spicy and lacking badly on salt and tamarind.
It burnt our tongue even when we mixed it with rice and tried a small morsel.
A good Sambar must not only be spicy but have other ingredients in the right proportion.
Chettinad Curries
To our great disappointment, Karaikudi Chettinad Curries were
bitter
or came with a
burnt
flavor and taste.
Ennai Kathrikai inflicted a bitter punishment on our tastebuds.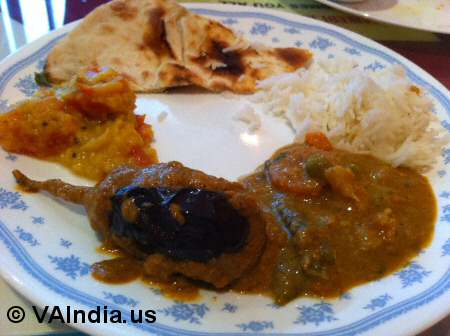 Ennai Kathrikai (left) Vegetable Kurma (right)
Set in a brown color medium thick smooth gravy, Ennai Kathrikai was cooked to perfection in terms of texture. But the gravy was way too bitter ruining the joy of eating this famed Chettinad curry.
Bitterly disappointed with Ennai Kathrikai, we moved on to Vegetable Kurma only to retreat in horror.
You see the Karaikudi Chantilly Vegetable Kurma packed a strong burnt flavor. Soon we realized the culprit was the gravy. The burnt flavor was so strong that it got infused even into the vegetables.
Bitter about the punishment being inflicted on us, we moved on to the Egg Masala.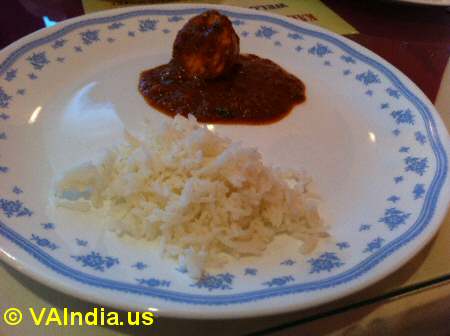 Egg Masala
Egg Masala was a close competitor to Ennai Kathrikai in terms of bitter gravy.
Again, alas the boiled eggs had absorbed the bitter gravy well.
Hyderabad Goat Biryani
We were surprised to see the Andhra specialty Hyderabad Goat Biryani in a Chettinad restaurant.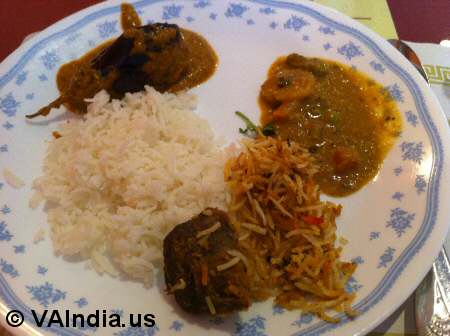 Hyderabad Goat Biryani (bottom)
Unlike the Chettinad curries, Hyderabad Goat Biryani was fine in terms of spices and the meat.
But the rice was a wee bit dry.
Lemon Rice and Okra
Lemon Rice was seasoned with peanuts and mustard seeds but lacked a flavorful taste.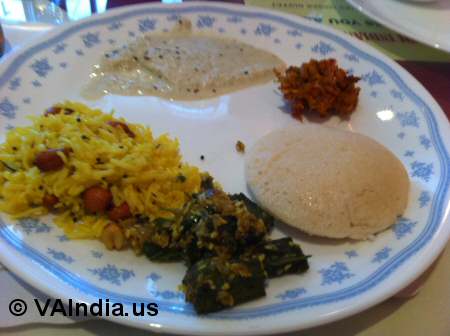 Lemon Rice & Okra Poriyal (bottom)
Okra Poriyal gave no room for complaint.
Okra was tender and packed a nice Coconut flavor.
Tomato Dal was flavorful with garlic seasoning and good with rice.
Naan
Naan bread was "horrid". Primarily because it was left at buffet table in a big heap. It was hard and only served to augment our fury.
Good Indian restaurants in Virginia serve Naan bread fresh at the table.
Also, we were surprised to see Naan bread in a Chettinad restaurant rather than Parotta.
Desserts
Payasam was the sole dessert during our visit.
Payasam was barely warm.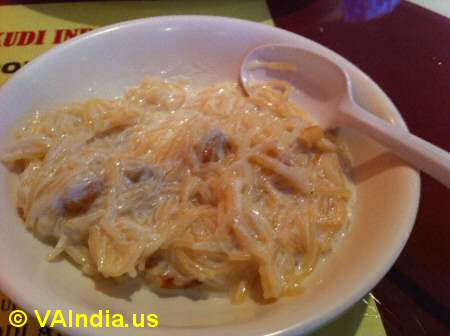 Payasam
It was medium thick and included a few cashew nuts and raisins but packed a raw flavor.
Worse, the Payasam was low on sugar, low on ghee and low on cardamom flavor.
Ambiance and Service
Located next to Lotte' Plaza on Metrotech Dr in Chantilly, Karaikudi has a spacious dinning room with an extension on the left.
As you enter, there are tables upfront, buffet station on the right by the side of the wall, cash counter on the right rear behind the buffet station, rest rooms and kitchen at the rear.
We were greeted by a middle aged, medium height, balding
desi
waiter and promptly shown a table. The same waiter filled our water glasses. But he never bothered to check with us whether we wanted to have a buffet or order from the
a la carte
menu.
Sure the used plates were removed and water glasses refilled without prompting.
But what irritated us most was the Karaikudi cheapos never bothered to replenish the buffet station. For instance, the
Raita
and Curd Rice dishes were near empty but they never cared to refill them. As we were in the middle of our lunch, one of the clowns took the Curd Rice off the buffet counter and never bothered to replace it.
Karaikudi Chantilly Rating - Not Worth It
If you love good Chettinad Curries like us, then you might want to stay away from Karaikudi in Chantilly VA.
Karaikudi's chefs appeared to be inept on the Chettinad part of the food.
It's unlikely we'll return to Karaikudi for Chettinad curries any time soon. - © VAIndia.us